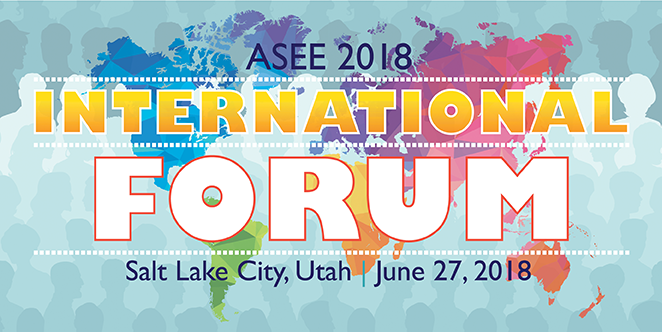 The 2018 ASEE International Forum Steering Committee is seeking posters for the 7th Annual ASEE International Forum to be held in conjunction with the 2018 ASEE Annual Conference and Exposition on Wednesday, June 27, 2018, in Salt Lake City, Utah. The poster session shall be the concluding event of the Forum, held alongside the President's Farewell Reception from 6.00-7.30PM.
The intention of the poster session is to showcase international activities for the purposes of networking and community building, and to encourage future collaborations. The posters are therefore non-technical in nature: they do not require original research, data, or analysis.
Best Poster Award
The winner of the best poster award shall receive a $200 gift card with the runner up receiving a $100 award, and both posters shall be highlighted during the President's farewell address.
Important Information
For additional information or to express your interest in presenting a poster, please contact Tom Walker at t.walker@asee.org.