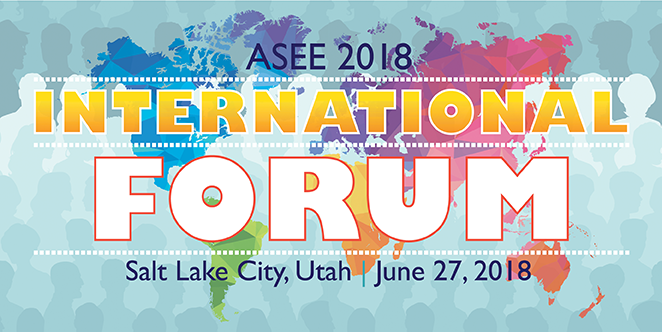 The International Forum is changing!
In Salt Lake City, the International Forum will be a half-day event on Wednesday, June 27. The International Forum activities shall be incorporated into ASEE's Annual Conference, and Annual Meeting attendees will be able to participate in the International Forum activities as part of their annual conference registration, except for the buffet luncheon with plenary speaker, which shall be a ticketed event. A separate registration option will be available for those only wishing to attend the International Forum.
We are pleased to announce that this year's Keynote Speaker is Dr. José Carlos Quadrado, Immediate-Past-President of LACCEI and Vice President of Instituto Superior de Engenharia do Porto.
The International Forum will begin with a buffet luncheon and plenary speaker, shall include a panel with leading international speakers followed by a discussion and networking opportunity for attendees, and shall close with a non-technical poster session during the President's Farewell Reception. For any guests travelling to the conference from overseas, we invite you to join us after the President's Farewell Reception for a special International Reception in the Presidential Suite of the Hilton Salt Lake. More details on all the proceedings will be announced as soon as they become available.
Technical papers shall be exclusively handled by the International Division. The deadline for submission of technical papers has passed. For more information, please see the International Division's Call for Papers.
Interested in presenting a poster? See our Call for Posters for more details!
We hope to see you for 2018's Forum in Salt Lake City!